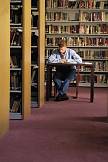 The
various WSEAS Offices
maintain small or big libraries with Books, Proceedings (Books and/or CDs), Journals etc...

Donate
to WSEAS libraries, Conference Proceedings (from other conferences, outside WSEAS), Books, Journals etc... (It is not necessary, of course, for you to be the editor or the publisher of these books, journals, CDs).

You can send also a copy of your proceedings to the
IARAS
Index. Before sending us the Books, Journals or CDs for our library, please,
contact us
and check if we have already the volume that you intend to send us.