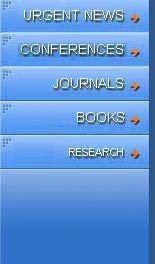 Main Page of the Journal Main Page of the WSEAS
Jan. 2007, Feb. 2007, Mar. 2007, April 2007, May 2007, June 2007 , July 2007,
August 2007, Sep. 2007, Oct. 2007, Nov. 2007, Dec. 2007, 2008
WSEAS TRANSACTIONS on
ENVIRONMENT and DEVELOPMENT

Issue 12, Volume 3, December 2007
Print ISSN: 1790-5079
E-ISSN: 2224-3496
---
Title of the Paper: Measuring System for Some Parameters of the Rolls Resulted in Finishing Process of Aluminum Foil
Authors: Dorina-Mioara Purcaru, Elena Niculescu, Ion Purcaru and Silvius-Dorel Nedelcut

Abstract: This paper presents some considerations about a system that measures many parameters of the rolls resulted in aluminum processing industry. It is an intelligent measuring system that supposes two rotary incremental encoders, an interface with 80C552 microcontroller, an IBM-PC compatible computer and a driving module. The technological parameters are measured and displayed, with imposed precision, during the rewinding process. The measuring system is characterized by software flexibility and assignment of the foil width and thickness before each measuring process. The results obtained using an experimental system (with the same structure) are also presented.
Keywords: Measuring system, rotary incremental encoder, intelligent interface, microcontroller, technological parameters.
---
Title of the Paper: Simulator Software for Marine Fish Farms Sustainability
Authors: Ginés Lloret Mauri and Jaime Lloret Mauri

Abstract: One of the main costs of the marine fish farms is the extruded feed. This paper discusses many issues given when fish, mussels, oysters or other shellfish are fed and their relation with the sustainability. There are several simulator software for fish growth and there are several published models for sustainability, but, as far as we know, there are very few simulator software for marine fish farms sustainability in existence. First, we will introduce other simulators published by other authors. We have observed that many of them just solve some of the issues, but not all. Authors will propose a simulator based on underwater wireless sensors that will solve issues aforementioned giving sustainability for marine farms. Because sensors are not wired, they could be deployed widely without cable limitations. The simulator permits to design scalable systems. It will be useful when there are many fish cages, allowing low cost maintenance. Our proposal takes into account many simulation models and methods in existence for sustainability in marine fish farms and we have introduced in it the possibility of choosing the method for modeling.
Keywords: Software Simulator, Simulation, Sustainability, Marine Fish Farms.
---